What happens when you tap into thousands of fan photographers in the stands?
Your fans are in the stands taking photos and uploading them for their friends to see. They are creating a ton of content and publicizing their experience every game. Imagine what you could do with real time access to all of those photos, comments and ratings.
Add photos from every seat to your seating charts.
Easily add photos throughout your site with our web apps.
Show customers the view from any seat at the ticket window.
Enhance the fan experience and add value to your venue.
Give fans a way to interact with each other from 10 sections away.
Find out what your customers thought about their seat through comments and ratings.
Get real-time stats on what your fans are sharing and viewing.
How it works.
With our free Android & iPhone Apps, your fans can share all of their photos with you and all of the other fans.
Your fans are already taking photos
With a view from my seat, they can share those photos and their comments.
Available now on Android. Coming soon to iPhone
With this API, you get access those photos in real-time.
Get awesome seating charts.
Show fans their seats from the ticket window.
Add value to the ticket purchasing experience. Help your fans make a decision with confidance by showing them photos from that section, row or even seat.
We'll customize a ticket window app specificly to your venue. With one tap, any ticket window can encourage sales by showing photos any section. Eventually, you'll be able to pull up photos from every seat in your venue.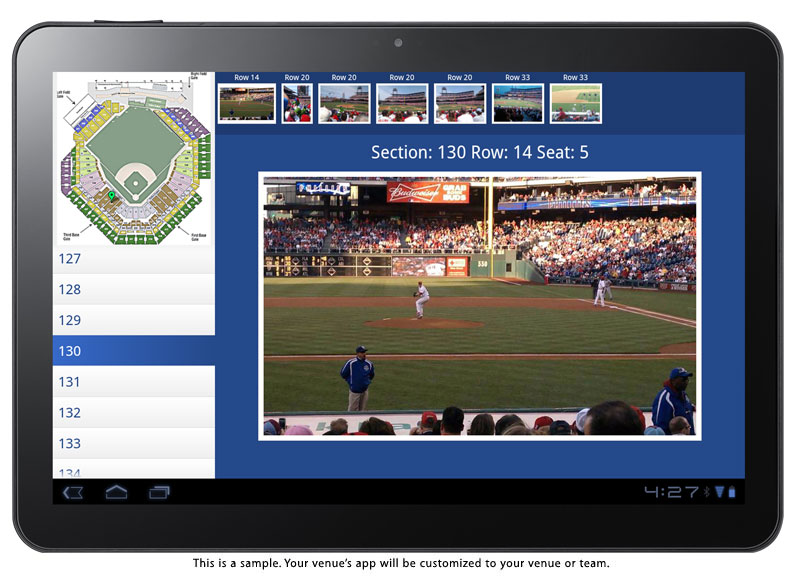 These tablet app are only available to ballparks and stadiums. They come with the "Ultimate Ticket Window Access".
See pricing for Ultimate Ticket Window Access.
See up to the minute stats.
See how your fans are using your apps with up to the minute stats. You can see what is being search for, what's popular and what your fans are sharing. You'll be able to react to their concerns and share the fun they are having with others.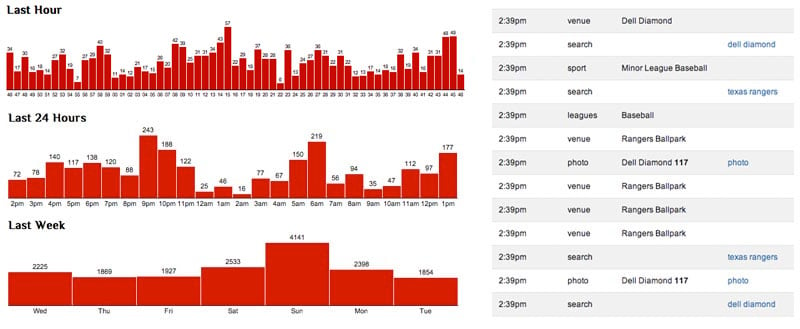 See all the photos as they stream in. Then have fun with them on the scoreboard or during a broadcast.
Perks for your fans
Your customers trust their peers and influencers.
Get your product into the right hands and let them do the promoting for you.
What's a Perk?
Perks can be tickets, merchandise or experiences. You make these available to people who are influencial and enjoy talking about your venue or team.

How does the perk get to an individual?
People who qualify for a perk can claim it on our site. If they like it, they are likely to recommend and promote your product across their social networks.
What is a Fan Score?
We measure someones influence across all major social networks. We then combine it with stats we have about the venues they like, go to and share photos from. This tells us what a members like to talk about and what they share. Every member earns a Fan Score and influencial topics are determined based on this information.
How does a person qualify for Perk?
The exact conditions are up to you. If you'd like to target a variety of sports fans, you might require a good fan score. If you'd like to hit a specific market, you might want to target people who talk about a specific venue.
How about some example Perks?
Say you wanted to give a few influencial people a pair of tickets to an upcoming game.
You could say that their fan score needs to be above 30 & they need to have influence at your venue.
Now, lets say you wanted to give away 1 trip to Florida for Spring Training.
Here you might want to say that their fan score is above 55 & they need to have influence at your venue.
What happens after someone gets a Perk?
At this point, it's up to them. If they enjoy it, there's a good chance that they will talk about it to their friends and followers.
This encourages others to purchase the same product.
Are there other benefits?
When you run a perk, you get advertising on our site for the rest of the season. Everyone who visits will see the perks you have offered.
We also promote your perk in our newsletter, on Twitter, On Facebook and on our blog. We put you in front of the people who are interested the most.
Contact us to set up a Perk.
Extremely targeted ads.
Your customers are here and we know what they like.
With A View From My Seat, you have the unique oppertunity to target visitors based on the venues and teams they are viewing.
Every time a user submits another photo from your venue, your ad can appear next to it.
Download Ad Spots pdf.
Contact us to run ads.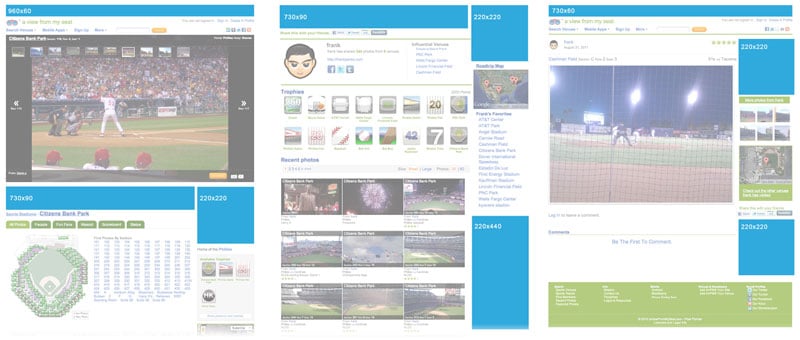 Custom solutions
Our developers are some of the best in the world. We're here to help you add value to the fans experience at your venue and on your site. If you have other ideas or need a custom solution, contact us through the web or message me now on twitter. @aviewfrommyseat
We are fans and were here to help make the experience one to remember.